All Customer Reviews Are 100% Verifiable As Genuine
"Charlie and Neil were excellent. From the moment he came round to quote for the job, I knew I was in good hands. Always on time, he and Neil worked tirelessly. Even staying late one night so they could get ahead. Their craftsmanship and attention to detail was second to none. I've no doubt I'll call upon Charlie and his team again."

@ Verified By Email – Customer in Orpington ( 1 ) 22 March 2017

Checkatrade Reviews - Based on 191 Reviews
Reliability & Timekeeping - 99.7%
99

%
About Checkatrade Members
Checkatrade runs strict background checks on tradespeople before they can become members. Once they join, members agree to have feedback from their customers put online for all to see. We've published 3,898,056 to date. See Checkatrade's FAQs for their process on how they publish feedback.
Members promise to meet The Checkatrade Standard.
No other directory of tradespeople uses this model. The background checks and public feedback ensure that only reliable and trusted tradespeople get work through Checkatrade. They make sure that you can find someone outstanding to get the job done.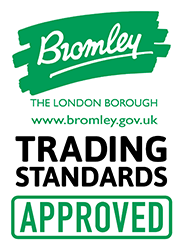 New boiler and radiators.
"I would recommend this company. Lovely, polite young man ever so tidy would definitely recommend."
Pending Verification – Customer in London ( 1 ) 2 June 2014

New lawn.
"Very Polite and efficient, very nice man, would be happy to recommend."
Verified By Telephone – Repeat Customer in London ( 2 ) 7 March 2014
New decking.
"Great guys, very polite. Couldn't be happier with the work they done. Would always use them in the future."
Verified by SMS – Repeat Customer in London ( 2 ) 20 July 2018

Re pressurise boiler.
"Charlie/Masonic had done some plumbing work for us previously which we were really pleased with. At the weekend our boiler dropped pressure after we removed a radiator. We tried to re-pressurise ourselves however couldn't get the filling key to work. We text Charlie on the Saturday evening and he mentioned he was passing through the area on Sunday. First thing Sunday morning Charlie fixed our boiler in less than ten minutes. He's the most courteous, polite person you could meet and we hope to use Masonic to fit a bath early next year. Definitely recommend to anyone in the South London area."
Verified by SMS – Customer in London ( 1 ) 16 October 2016



Thank you for visiting:
Building & Landscaping Reviews in Bromley Kent South London